Bronze and Gun Metal
.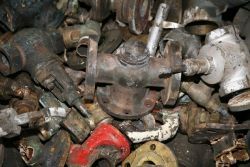 GUNMETAL SOLIDS AND BORINGS
Gunmetal will frequently be identified by colour and the previous use of the item concerned. The most common form being valves, beware of brass valves that look similar to gunmetal must be of crucible size, no larger than 18inch in any direction and free of iron.
---
PHOSPHOR BRONZE BORINGS
There are a variety of grades of P.B. borings a higher percentage of lead results in a lower price, mixed grades are bought though. Analysis is required for accurate I.D of larger parcels. Iron contamination combined with water should not exceed 3% any contamination with brass, manganese bronze or ali bronze will lead to a much reduced price.
---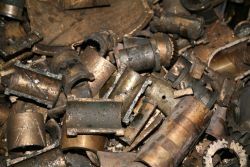 PHOSPHOR BRONZE BUSHES AND BEARINGS
Motion parts from machinery, can usually be identified by their colour, no larger than 18″ in any direction or a slightly reduced price will apply, must be free of other metals and reasonably free of other contamination.
---
PHOSPHOR BRONZE CROWN WHEELS
Most crown wheels will be P.B. and have a higher value than straight cut gear wheels. Check the image to compare the difference, as always they must be completely free of other metal or contamination. Must be no larger than 18inch in any direction.
---
PHOSPHOR BRONZE GEAR WHEEL
Straight cut gear wheels no larger than 18 in any direction, oversize will be at a reduced price. Must free of deletrious material.