Brass
.
BRASS ROD SWARF
Swarf from the machining of brass rod, quite yellow in colour must be free of other grades ie; phosphor bronze and gu metal etc. must not contain more than 5% moisture and iron combined.
---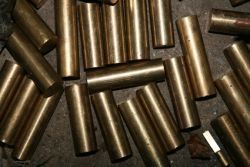 COLLECTED BRASS ROD
New extruded brass rod ends free of aluminium and aluminium mixtures, must be free of iron and other deletrious material, usually only supplied by engineers.
---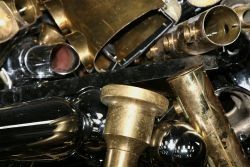 MIXED BRASS
Otherwise known as yellow brass. Valves, taps and numerous other everyday products are made from brass quite often chromed for domestic use ie; taps, should be free of manganese or ali bronze grades and obviously iron.
---
MIXED BRASS BORINGS
May contain any sort of brass boring with up to 10% manganese or ali bronze borings, slight contamination with aluminium or gun metal is accepted, iron and moisture should not exceed 5%.
---
NEW BRASS CUTTINGS
Cuttings and stampings from soft brass sheet, not less than 61.5% copper, must be free of tinned, plated, poly, painted material and iron free.