Cast Iron
.
CAST IRON BORINGS (11A)
Clean cast iron borings and drillings machined from castings must be free from steel turnings and excessive fluids.
---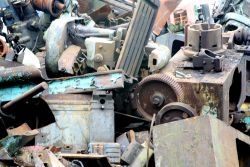 OVERSIZE CAST IRON AND C/I MACHINERY
Iron castings either in single casting form or more usually complete machines, textile or engineering machines need to be drained of all fluids and reasonably free of other non metallic material, if a machine has a high steel content then it may not command the same price as clean cast, pieces up to 22 tonnes can be handled, however cast thicker than 8 is not suitable for foundry use and again will not command a premium price.
---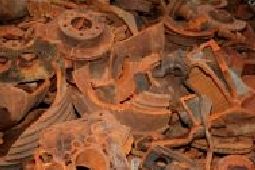 SG IRON CASTINGS
SG, an abbreviation for spheroidal graphite cast iron, a grade of iron with very high strength and ductility, capable of withstanding high shock, translated this means that we cant break SG, it will just about flame cut. Turbochargers and other motor castings are common sources of SG frequently contains high quantities of alloying agents ie; chrome, copper, etc., analysis recommended, material must be free of any other inclusions and free of oil and grease, castings larger than 18 (45cm) in any direction will most likely have to be bought as NO1 steel, however insize castings will be bought at a premium.