J.B. Schofield & Sons is a family firm of scrap merchants who have been dealing in scrap metal since 1876 on the same hillside, 800 foot up in the Pennines above Linthwaite and Slaithwaite in the Colne Valley near Huddersfield.
The company turned to gritting in 1974 after a chance conversation between the newly formed Kirklees Highways chief engineer, Keith Dwyer, and Carl Schofield. Dwyer suggested that Schofields should submit a tender for winter maintenance work to supplement the highways day work that they were already undertaking. The tender was duly submitted and a dilapidated BMC tipper with gritter body was purchased. Carl's 14-year old son Mark was press ganged into being the driver's mate. He took one look at the BMC and decided that a coat of Schofield maroon and post office red would have to be applied before he would be seen riding round the Colne Valley in it. Fodens and ERFs where the order of the day at Schofields.
After a successful winter's gritting around Linthwaite and "Slawit", the following summer saw the gritting fleet increase. Second hand Atkinsons of Clitheroe bodies appeared in various states of disrepair, but Carl wanted "summat" with a Gardner engine, so one of the ERF tippers on the scrap side of the business was retired. OSX 356, a former Rowntree Macintosh van bodied vehicle with a Gardner 5LW 100Bhp, David Brown gearbox and Eaton two speed axle became the first "proper" gritter.
---
The method of ramming and digging, then reversing onto a patch of clear road and ramming the snow again became the Schofield norm in severe snows of the late 70s.
---
The tipper body was removed, all draught holes in the cab blocked (not much point because Carl went everywhere with the window down, a source of many a late night, heated (frozen) argument between a frozen teenage son and father in the middle of a snowstorm up Standedge). The chassis and cab were resprayed by Mark, the cab painted internally by hand in light blue, but, and it was to be a big but, the only gritter body long enough was a Neville Charrold coal body with an aluminium hopper.
The front end of the chassis had to be fitted with a plough frame and bumper bar made of 1" thick steel and 8" x 4" channel iron. This job fell to former employee Geoff Dyson, a blacksmith and vehicle repairer from Marsden who had a knack for bending steel into any shape you liked. Geoff's bumper bars became a trademark feature of Schofields homegrown gritters. Other ERFs with their timber framed fibre glass cabs , which were of course rot proof, were bought from Showering's wine distributors at Magdale between Meltham and Netherton (a regular source of second-hand ERFs). High milers but well looked after. One of these, 27 PYB a 14 tonner, was unfortunately for those who drove her, blessed with a Gardner 4LW 80Bhp engine, which due to low gearing would climb any hill, even the 1 in 4s of the Colne Valley, though walking would have been quicker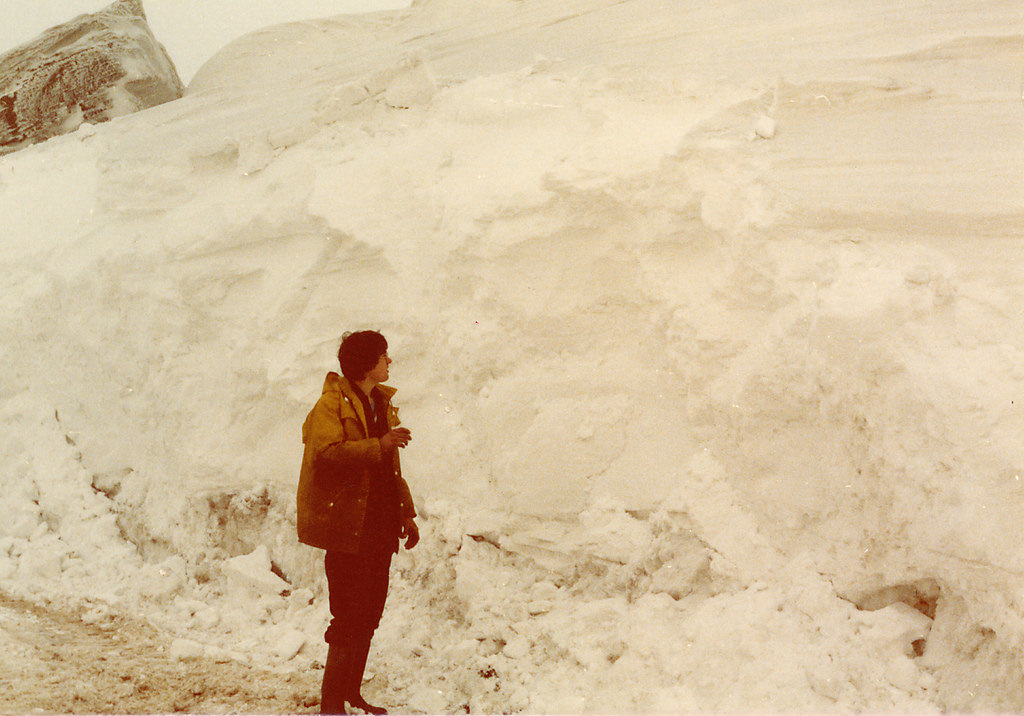 The cab heaters in Gardner powered vehicles were always a little lacking on the heat side of things, however with a sack over the radiator 10 tonne of salt on the back and very steep hill to climb some warm air filtered through to driver's and mate's frozen feet. Going down the other side normal (cold) service was resumed. Carl with his window down seemed to be oblivious to the cold. The reason for this became clear to Mark a few years later: all that steel plate and channel iron mounted on the front of a wagon with no power steering led to very heavy steering, this, a rather long wheel base and lots of corners lead to sweating not shivering. The ERF side of things was quite reliable, the coal body though broke down on a regular basis. The hopper sides weren't steep enough to make the salt slide down onto the conveyor belt in the bottom; Carl's answer to this was to make Mark climb out of the cab into the body whilst moving and gritting, and shovel the salt down onto the belt. This being the 1970s health and safety wasn't a priority. The upside of this was that the exercise got the blood flowing and the body warm and lets face it life would be a bit boring without a little risk taking. There were never any accidents involving those onboard the gritter, as for cars though, now that was another thing altogether.
Carl knew that the most efficient way to spread the salt evenly across the whole road was to drive down the middle of the road, including, in fact preferably, the A62 Manchester Road. So there we are plough lights mounted high shining straight at the eyes of oncoming motorists, the orange flashing light invisible behind the glare until the last moment, 10 ft wide side plough mounted on the front at all times (to intimidate I think) taking a central line a wheel either side of the white line, 40mph, the spinner at the rear throwing salt over garden walls, never mind the road, unstoppable, Carl would never give way. As the unsuspecting car driver heads onward unaware of what the glowing lights were hiding behind them, assuming it will move over, no chance, time and time again, every turnout cars swerved to their nearside mounting pavements, verges and occasionally other cars! The amber beacon demanded respect and if that didn't do the trick the plough soon changed their mind.
---
Schofield's were there for the thrill, gritting got them away from a frozen scrapyard, and let them play and be paid, taking risks having fun was the deal
---
Of course this driving up the middle of the road did have its drawbacks, undertaking for example the nightly climb up Standedge with its three lanes almost always led to a game of chicken with a certain category of impatient driver, who couldn't make his mind up which side to pass on, should he choose the inside though, he would find his passage narrow rapidly as the old ERF drifted to its left and then back to the centre. Only the very brave, foolish or very fast got by and those that did often became a cropper in the conditions ahead, where they were to be found with wheels spinning helplessly in the snow. In one instance a young lad in a mini passed us in Marsden throwing slush all over the ERF, by the time the gritter had got to the layby above the Coach And Horses, halfway up Standedge, a pair of wheel marks made a sweeping arc highlighted by the plough lights in the newly fallen snow, straight through the fence and down a 20ft banking. The driver, dazed but unhurt, had staggered to the top just in time to watch us drive by, the moral of the story being, never pass a gritter, there is a reason for it being in the middle of the road in front of you.
The fleet grew in the 70s and by 1978 three 1967 16 ton Fodens, ex British Salt of Middlewhich were bought at the auctions at Brighouse, complete with aluminium salt tanks. With Gardner's 6LW and 112 brake horse power a Foden six speed plus overdrive gearbox and Fodens own axle great things were expected. Only two were converted, tanks removed, no expense spared in the sandblasting and painting. Mark worked 16 hours a day sanding, masking and painting. The cabs were cellulose primed and painted with expensive 2 pack paints, Vauxhalls "Ruby" became the colour of choice, another name for maroon. Post Office red chassis and a home-made orange come yellow that Carl had a penchant for. Lessons had been learnt over the previous years about salt and corrosion, never put aluminium and steel together, electrolytic action soon turned the aluminium to flux, salt water would travel up the inside of electric cable dissolving the copper as it went.
The wagons were rewired with every precaution that could be thought of taken. Rustoleum, a fish oil based paint was used along with large amounts of Carl's home brew red lead, made from white lead in a form similar to putty mixed with boiled Linseed oil and liquid driers, a drop of turpentine, the whole lot brewed over a gas stove, even the gas cooker in the kitchen, where one of the cans sprang a leak much to the lady of the house's displeasure. After six or seven coats of paint the whole lot was sprayed with wax oil. New tyres with plenty of grip, new mudguards at the rear and the vehicles looked as good as new.
Things didn't go as planned, British Salt had specced the wagons for motorway and trunk road work, the highly geared (for the era) rear axles were useless in the Pennines, the six-speed box didn't have the spread of the usual Foden 12 speed epicyclic box of the larger Fodens (although the 3rd 16 ton Foden that never got converted did have a 12 speed). A new lower dif was found for UMA 394E though it lasted over 10 years, re-sandblasted and repainted several times, with her original dif another way was found to overcome UMA's lack of "grunt". As a steep hill or indeed deep snow was approached the drivers mate pulled back the bonnet side and lifted the cold start button, a plume of black smoke from the exhaust and she surged forward, most obstacles could be overcome by this method. UTU on the other hand appeared to have been helped in the power department whilst at Middlewich, revving far faster than the usual 1750 revs she always had power to spare, she also black smoked a lot!
On the scrap side, Schofields had two six wheeled Fodens, one, OYG 258E a 24-tonner bought new in 1967 the other, 892 CWW a 20-tonner fitted with a Telehoist skip unit, but originally run by the legendary Robert Hanson on coal haulage. 892CWW had spent her early days at Schofields fitted with a tipper running scrap to the steel works at Skinningrove, the two hundred odd miles being an all day job she worked night and day, OYG then took over the role, originally fitted with a Gardner 6LX 150, a dropped value in 1977 saw a 6LXB 180 fitted at Pelican Engineering. Both wagons with their low gearing and double drive bogies could pull unlimited weight (50 ton!!) almost anywhere, with suitably strong plough frames and bumper bars fitted, plus of course the obligatory orange "noddy" light, both vehicles would be ballasted and used to plough the parts that normal vehicles couldn't reach. 892 CWWs career was fairly short lived with the skip unit at the rear of the chassis and the lack of a 3rd dif she just wouldn't steer around the Colne Valley's tight corners. OYG with its tipper up close to the back of the cab didn't have quite the same problem and ploughed on regardless.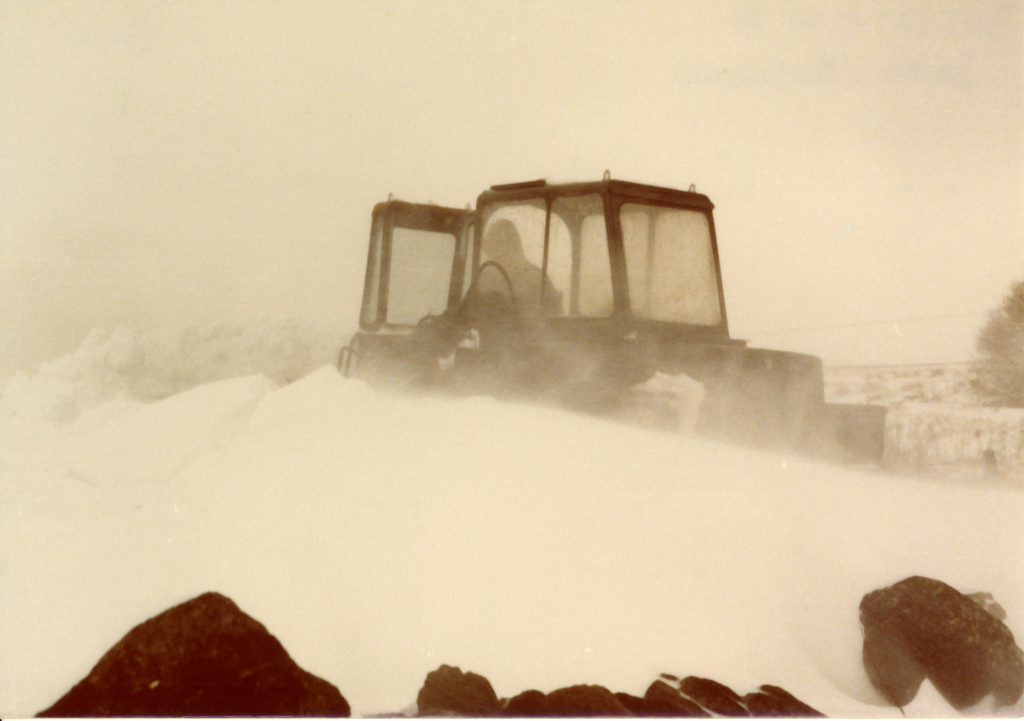 The Fodens were often seen running echelon style, sweeping the snow from wagon to wagon thereby clearing the road from side to side at one go. The wagon at the rear of course drew the short straw, as the snow got heavier and more compressed as it passed down the line. Carl in OYG at the front appeared to be oblivious to the havoc he left behind, snow would be spilling over the top of OYG's plough but nothing stopped her, or him!!
With a suitably strong chain hanging from the rear towing eye OYG's party piece was pulling stranded 32 ton artics over the A640 Buckstones or Standedge, this being where they ended up after things got difficult on the M62, usually after driving past the flashing road closed sign. Any driver who questioned our previous whereabouts, whilst he had got himself into this mess, was left stuck, the grateful ones were given a helping tow. Many of these drivers after a lifetime in their cabs were incapable of getting out and shovelling salt under the wheels of their own wagon. The Schofield teenagers, four of them by now were gainfully employed as mates both to help rescue other stranded souls but also to rescue the Schofield gritters after either Carl or George had rammed yet another 6ft drift and driven till the wagon would go no further.
This method of ramming and digging, then reversing onto a patch of cleared road and ramming the snow again being the norm in the severe snows of the late 70s and early 80s. The other contractors didn't employ these methods, their method being to do as little as possible so as to incur as little wear and tear (and expense) as possible. Schofields though were there for the thrill, gritting got them away from a frozen scrapyard and let them play and be paid, taking risks having fun was the deal, it became a winter way of life, even the routine frost prevention grits got them out of staying in the house at nights and weekends, even Christmas day could be relied upon for a drive up Holme Moss or the Isle Of Skye whilst everyone else sat stuffed with Christmas pudding.
The ability to slide at great speed, backwards with wheels turning forward while avoiding hitting walls or cars became an essential skill for the aggressive (and possibly delusional) "this wagon will go anywhere" gritter driver. Fortunately the high torque and low gearing of the ERFs and Fodens meant that stalling was unusual so that once a non slip surface was reached the tyres would bite and normal direction would be resumed. Remember, their vehicles threw salt behind them, no advantage to the forward travelling gritter, reversing up hills, or indeed down, whilst gritting under ones own wheels was the safe albeit slow way of tackling an icy Tiding Fields or Crimble Clough, not easy in a blizzard.
Mark, by now driving, and Carl shared the evening grits, splitting the Colne Valley down the middle-with the A62 being the middle. This was supposed to be done by 6 or 7 vehicles but this was deemed too easy and didn't keep us occupied until bedtime and that wouldn't do. In bad conditions the evening shift drove through the night till 6.00am and a full complement of drivers was brought in to help out. The morning shift starting at 5.00am. Five drivers were drafted in for the mornings and they were often leaving our yard at 4.15 am, usually with a part load of salt, which the council disapproved of. This allowed each of them to grit a different route to the salt yard prior to loading thus giving them a head start. This sort of thing made a massive difference in bad conditions whilst in normal frost prevention it led to an earlier finish which allowed the drivers to get on with their day work without any loss of time. These little things all contributed to making a low-income job justifiable, the reality is that it was almost a hobby with a bit of income. There were more drivers in the morning as the roads needed to be cleared or gritted before 7.00am if possible and also most of the drivers had day work to get on with which obviously wasn't the case for us on the evening shift.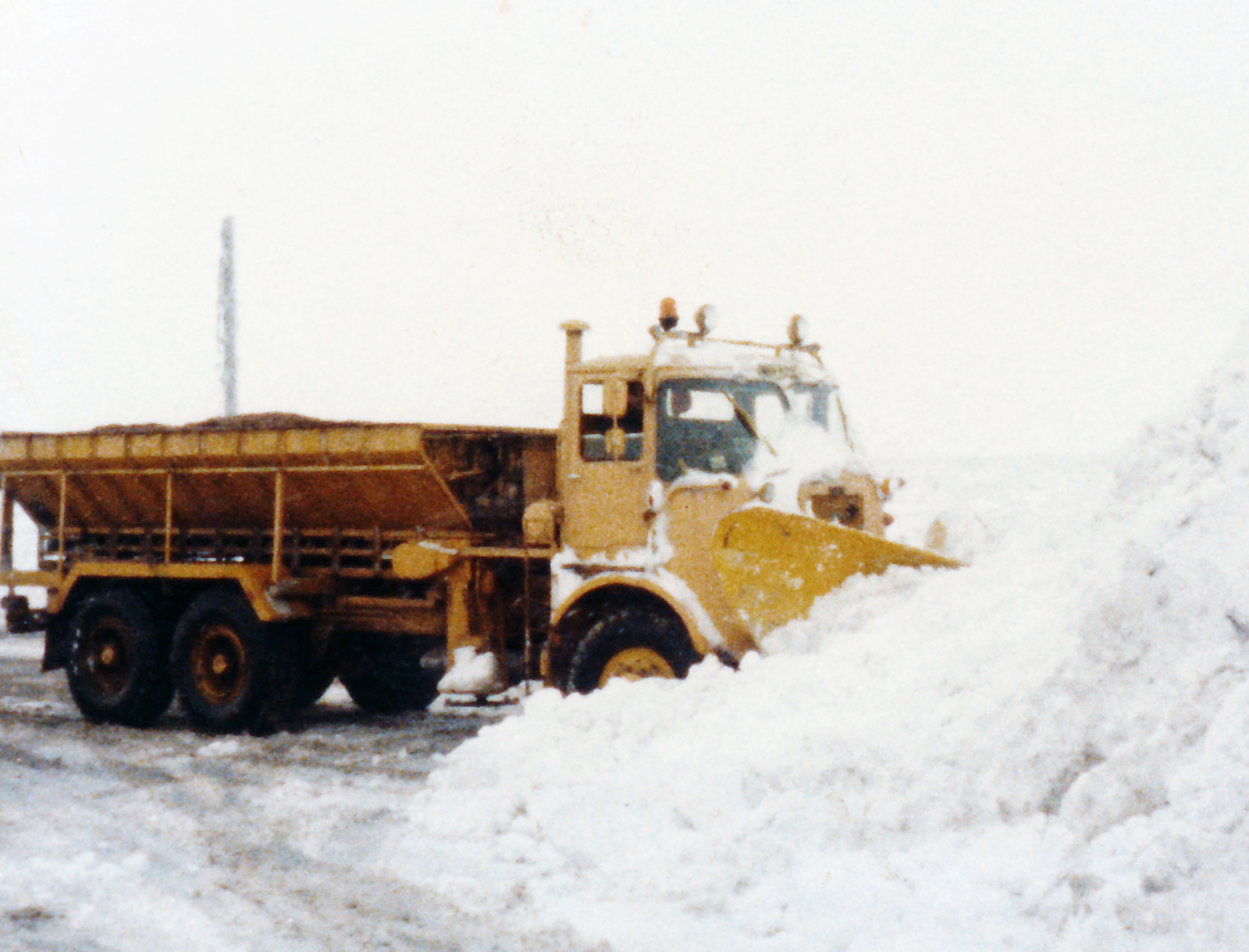 The fleet peaked at fifteen gritters and twelve routes. Three of the routes were in Batley which is part of the same Kirklees council area. We used part time drivers on these routes, people whose day work was stopped by bad weather and needed additional income. These drivers weren't HGV drivers so we used wagons that were both smaller and easier to drive. Bedford, Dodge and Ford were some of the marques used and without exception they were unreliable and prone to breakdowns-and being broken! The drive to Batley and back was nearly as long as the actual route and in the evening rush hour for the evening grit this led to a high incidence of minor accidents particularly when the wagons also had the ten-foot-wide side plough attached. These routes were the first to be jettisoned when new stricter contracts were introduced.
The new contract insisted that the drivers held the appropriate HGV licence for the vehicle being used. As gritters are classed as plant, they run on red diesel (if they have a fixed and permanent gritter body) and aren't subject to MOTs etc. This wasn't what the law said. The problem is that the law surrounding this is a little bit of a grey area and the council's legal advisors were nervous of this and decided to write the requirement into the tender document. This caused us massive problems as a number of our regular and spare drivers didn't hold HGV licenses. Most contractors had the same problem; copies of a driver's license had to be shown at the beginning of the winter season. We had no choice but to ditch all peripheral routes and we consolidated our routes around the Colne Valley and Meltham.
At a later date the Working Time Directive (WTD) was introduced. These regulations clashed with those governing the driver's hours and combined they presented a massive legal problem for us as some of our drivers were using their HGV entitlement in their day job. We did have drivers who, fortunately, held an HGV license and worked in the yard or operated plant and we had always used this to our advantage much like most of the other contractors. Unfortunately, the WTD stopped this as well. Unlike some other contractors, mostly farmers, our Operators License which governs our ability to operate HGVs is vital to the bread and butter side of the business, the part that pays the bills, scrap metal recycling, and we couldn't put it at risk.
---
Airlines and valves froze for the fun of it.
Several times I drove home with a gallon can of diesel in the cab and a piece of rubber pipe feeding the fuel pump directly from the cab, having tried to avoid a mouthfull of diesel when I sucked it through to get a syphon going
---
These rules also presented Kirklees Council with a similar problem and they had to introduce working practises similar to what the emergency services provide for 24/7 cover. The main difference being that gritting is seasonal as well as intermittent and doesn't usually cover the hours between 11.00pm and 5.00am other than a couple of night patrols. It resulted in council workers being paid more per winter to be on standby and in lieu of day work (because of the legal obligation to take extra time off to comply with the law). When they did grit, they got more than we got paid for supplying a wagon and driver. Tenders and contracts covered several years and could be lengthened if the council wanted to, in fact the entire tender document was entirely one sided with everything in favour of Kirklees Council. The tender had become sixty pages of requirements and threats concerned with things such as gender equality. When the first of these new tenders arrived in the mid 90s I can still picture it being launched across the office and hitting the bin by either my dad or Uncle George, followed by a load of abuse. I retrieved it, read it, and decided to tackle Kirklees head on, voicing my concerns vociferously and threatening to withdraw from council work completely, two can play the threat game, and at this point they needed us more than we needed the gritting.
I was invited to a meeting at what was then the headquarters at Mayman Lane, Batley. I think they were expecting me to walk in wearing my overalls and be talked down to; instead I walked in wearing a suit and carrying my briefcase, something I did regularly at the time when meeting management at local engineering works to discuss scrap metal contracts. The council engineers and superintendents etc. were all sat around a large table and I gave them both barrels, voicing our concerns. I was assured that the penalties and threats written in the contract would never be actioned but they weren't in a position to remove them. It has to be said that I knew most of the people concerned very well and I was prepared to accept them at their word. We subsequently tendered for a small number of routes in the Colne Valley and Meltham, a sustainable amount of work. Other contractors had problems and the council was left with a big shortfall in the number of available vehicles, their answer was to lengthen each route by a considerable amount and reduce the number of routes. The Colne Valley, originally having seven routes (and gritters) now had four. This was OK under frost prevention conditions but in bad conditions we had no chance of coping and standards started to slide.
By now council superintendents and managers often lived many miles away, career people who commuted in from Leeds, Wakefield and Sheffield rather than from the local area with the requisite local knowledge of roads and weather conditions. Persistent rain in their local area was a raging blizzard on the Trans Pennine routes and the senior standby manager would refuse us permission to turn out on a regular basis based on weather forecasts and what was happening outside his own window, rather than on the ground in the hills west of Huddersfield. By the time we were allowed out there was often chaos and gridlock and our job was a nightmare with gritters stuck amongst the chaos unable to do their job. The headlines in the local paper the day after would read "Gritters caught out again".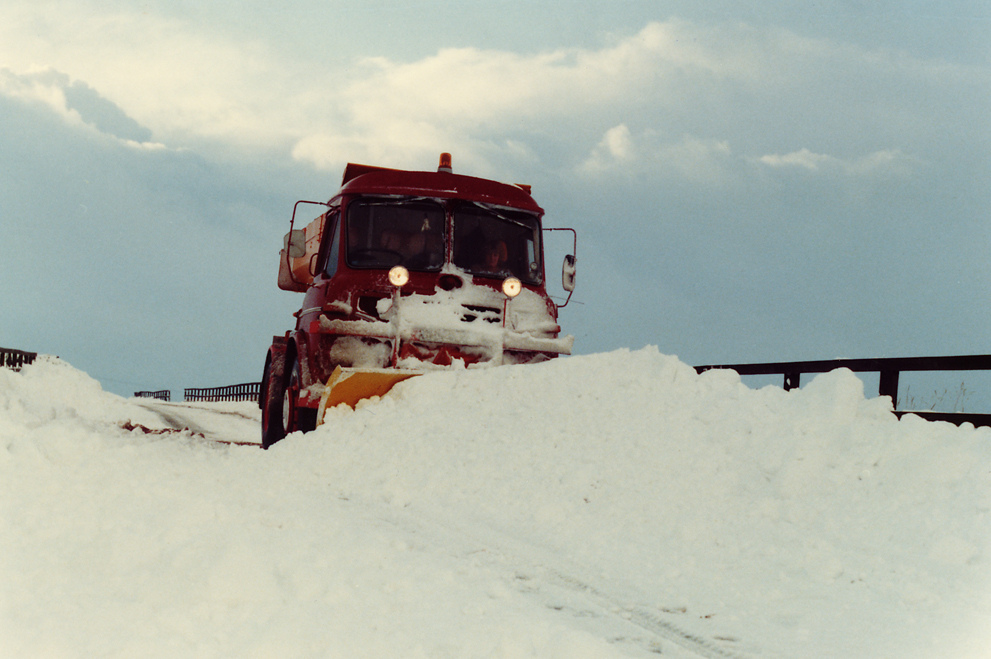 If we hadn't had a core of drivers, a small number who wanted to carry on gritting, we would have walked away from the job much sooner than we did. I refused to be told what to do by someone who had so little knowledge or empathy for the job in hand. If I had a dispute with a member of the public (usually over a parked car blocking my way) I would get a phone call demanding that I apologise to the moron in question, who needless to say had complained thinking that they could get me in trouble. I always refused point blank and ultimately gave up driving a gritter myself. The whole thing had become a bureaucratic operation more concerned with box ticking and paperwork than the actual job in hand. Gritting routes were planned in an ABC fashion with almost no leeway for variance to suit the condition of the road. Any deviation from the set route i.e. driving up Clough Road rather than down it, had to be documented, with a reason included, and phoned in as well at the end of the grit. This was all down to the burgeoning claims culture. The insurers of drivers who had accidents owing to their inability to drive according to the road conditions (and their own limited driving skills) would sue the council for failing to clear a road. This also led to our drivers occasionally being called to an interview regarding road conditions up to two years previously-hence the new requirement for copious documentation. The writing was on the wall.
Over the years we ran a wide variety of vehicle marques, mostly Foden and ERF with one Mk1 and five Mk2 Atkinson motorway gritters. Coincidentally fifteen years after the Atkinson joined the fleet, their replacements, based on S80 series Fodens came on to the market and over a period of time we bought five of these. Again, coincidentally, like one of the Atkinsons, one six-wheeler Foden had been converted to four, albeit only a rear wheel drive. Like the Atkinsons, two of the Fodens were spare vehicles and never allocated a regular route, they were too big for the valley routes but ideal for the main Trans Pennine routes. Ultimately the spare Fodens would be cannibalised for parts. The trunnion casting carrying the rear springs was prone to breaking and we exhausted the supply on the second-hand market leaving us with little option but to rob the other vehicles. Each generation of motorway gritter would prove to be unable to cope reliably with the arduous routes on our patch even after extensive modification. They were designed and suited to motorways. The early Fodens were S21s from the 1960's along with ERF KVs at 14 and 16 tonnes then later ex Showering's LV's. They all had Gardner engines including the 4LW, 5LW and 6LW from 80-120 BHP. Usually high milers they were still reliable, smoky when cold of course, but reliable.
The low temperatures of the late seventies and early eighties were a nightmare for us. Low temperature fuel wasn't a standard and relatively ineffective additive had to be added to bunkered fuel. Air lines and valves froze for the fun of it. At time when we had a lot more tippers on day work, fifteen gritters and many items of construction plant life was a never-ending round of de-icing brakes, changing waxed fuel filters, adding petrol to diesel tanks to thin the diesel and responding to roadside breakdowns. Several times I drove home with a gallon can of diesel on the bonnet in the cab with a piece of rubber pipe feeding the fuel pump directly from the can, having tried to avoid a mouthful of diesel when I sucked it through to get a siphon going. It was always surprising how far a Gardner would travel on a gallon can of fuel. Happy days…perhaps?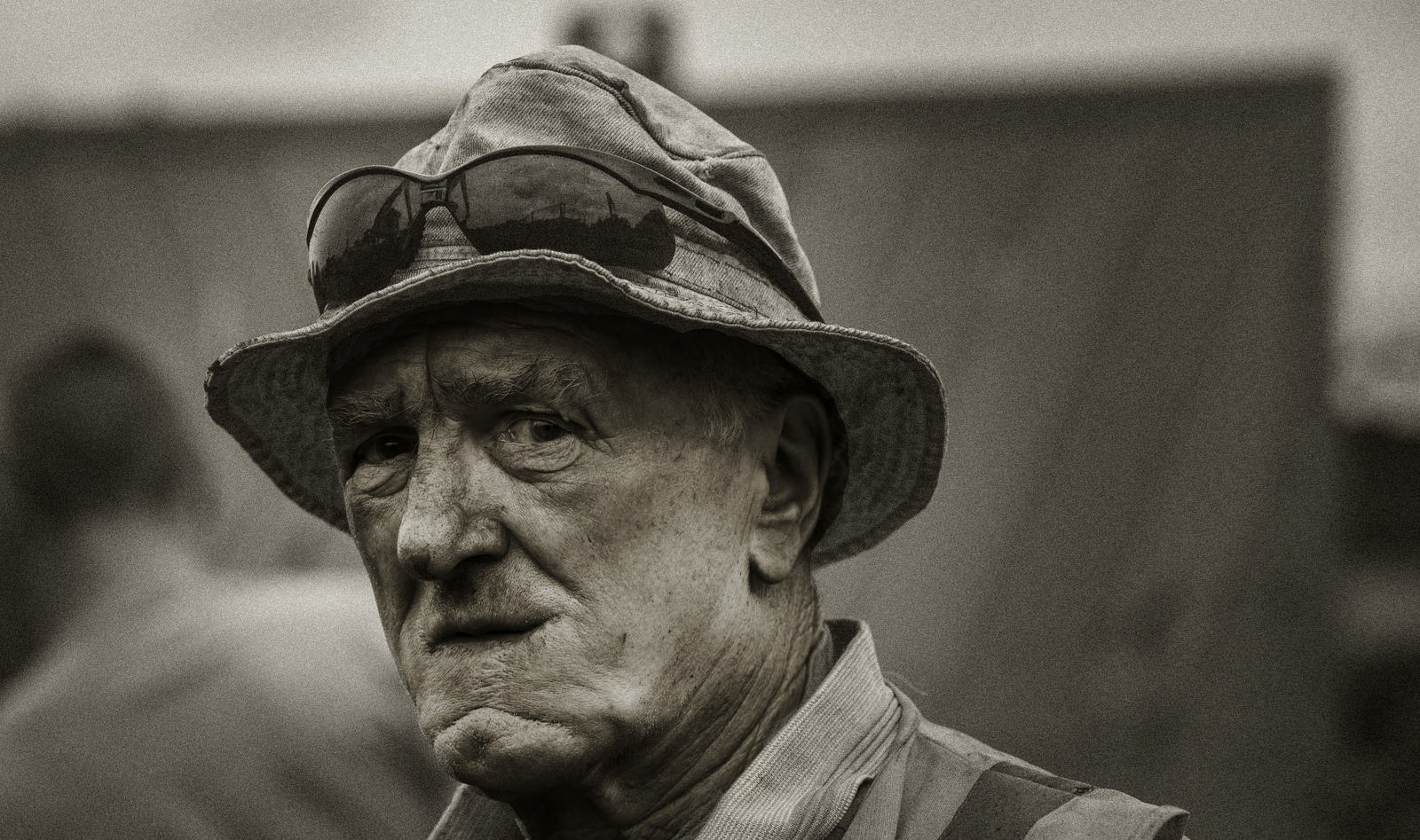 On my early starts for the day work the M62 up Hartshead Moor would be littered with wagons frozen up, many not having made it on to the hard shoulder, shrouded in freezing fog. I would have everything crossed that my own motor was reaching that critical temperature that meant I might have a trouble-free day free of ice related problems. I had claimed a garage parking space for my gritter so I had a bit of an advantage. Often it just meant that I got further from home before I froze up, usually somewhere higher, darker and colder.
Short wheel base tractor units became the preferred choice of base motor to build a gritter from scratch, their power to weight, length, tight turning circle and heavy duty build were ideal for us. Foden had moved to the full width and bulky Fleetmaster/S10 cab so the ERF B series and later derivatives became the vehicle of choice. Over the years we shortened drawbar models; both shortened and lengthened chassis overhangs and removed second steers from 38 tonne twin steers. They were all successful, reliable and well liked. The power and manoeuvrability cut the time it took to complete our routes and we loved them. The ERF C Series with a Gardener 230 6LXCT would romp up hills fully loaded even when pushing a plough through snow. A breakdown on your own unit would mean you had to take one of the spare six wheelers out and filled you with dread, too long and numb for the valley routes. I would spend an hour mending my own motor, getting filthy, wet and cold just to get back out on the road in it.
We also ran a selection of Ford D series, Bedford TK 4X4s, Albions and Dodges. The D series were just a never-ending catalogue of swapped difs, gearboxes and general unreliability. They were though, fairly powerful, comfortable, the heater got hot and they were easy to drive so they were popular drivers' motors. The Bedfords sang a similar song, the Albions were generally OK, the Dodges, some but not all. Ex council gritters were prone to corrosion, electrical problems and general unreliability. The Perkins engines were generally reliable. We often only got three years use out of these wagons against twelve and more from the premium marques, corrosion of the steel cabs being the killer. The fibreglass cabs of the Fodens, ERFs and I suppose to a lesser extent the Atkinsons were the real key to their longevity. Unfortunately, the Atkinsons had a steel cab floor and rear panel, which we did have to replace and it was a difficult and time-consuming job for a mechanic and welder.
The last wagon we converted was an ERF E10 with a Cummins 325 and Eaton Twin Splitter. This was a 38-ton ex petroleum fleet tractor unit with twin steer and in superb condition. It became our new night patrol, clocking up to a thousand miles a week bouncing along some of the toughest roads in the country seven nights a week for six months of the year. Driven by Alan "Avo" Avison it gave us fantastic service. It was totally stripped down, the second steer removed and then rebuilt with plough frame and gritter body fitted. We then sent it to be resprayed in Schofield livery with two pack paint. This wagon was probably a bit too powerful for the state of the local roads and we did incur a fair few broken springs. We still have the engine and gearbox along with most of the later Gardner engines on site.